Explosive Matters Localisation and Terrorists Neutralisation Systems
Explosives Detector Alarm Brochure (PDF 2.01MB)

AL-6D detects and localizes explosives in long distances. The AL-6D device accurately detects mines, weapons, RPG'S, stinger missiles, explosive devices, mortar shells, nuclear projectiles, projectiles, antitank weapons, even gunpowder and many other explosives. The device detects explosives in distances ranging from cm to several km, depending on the quantity of explosives, in a sector of 360 degrees and in depths more than 8 meters under soil, water or in the sea. AL-6D detects explosives in open terrain, behind walls, barriers, buildings, hills, inside vehicles and metal containers, etc. Cosmetics, glycerine products, salts, metals and "dirty" battle environment do not influence the accuracy of explosive material detection. Electromagnetic transmission and radiation does not interfere and does not affect the operation and accuracy of the AL-6D device.

AL-6D is using a unique DiodeBell material structure localization technology and method. This technology is based on the magnetic attraction created by particular material structures when energized by low power electromagnetic waves, emitted by the AL-6D antennas. Other explosive detection systems although they promise to detect in long ranges are not accurate even in short distances. The systems that use high power 'x' and 'γ' radiation, work only in very short distances, a few meters, and are actually "taking a picture" of the inside of a container or a luggage. Diodebell's advanced AL-6D technology is the only system that accurately detects explosives in long distances.

The applications of AL-6D are limitless, including:
Continuous surveillance and monitoring of confined areas of interest, such as passages, military camps, buildings, ports, airports, railway stations, hotels, bus stations, strategic targets, factories, bridges, weapon systems locations, etc.
Scanning areas, terrains and territories of interest, unknown or invading territories, buildings, etc.
VIP protection
vehicles and moving objects, including transport vehicles, airplanes, ships, cars, trains, containers, personal luggage
Technical specifications
Overall dimensions of the AL-6D device without handle and antennas
Length, mm: 189
Width, mm: 100
Height, mm: 35 - 60
Total weight, kg: 0.5 – 0.8
Minimum weight of the localized material, kg: 0.04 – 0.5
Distance of material localization, m: 0 – several km depending on material amount
Operation temperature range, Celsius: from -5 to 50
Storage temperature range, Celsius: from -10 to 60
Operation mode continuous
Permitted wind speed, m/s: 2
Permitted air relative humidity, %: 99
Guarantee period year: 2
Technical specs: depended on the machine developed Version
Operational capabilities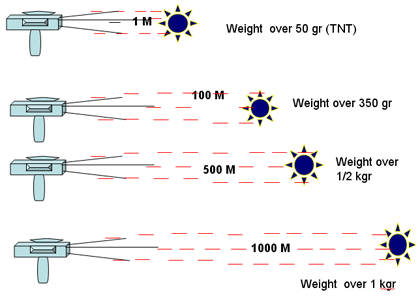 AL-6 system can detect and localize, among other material structures:
Black gunpowder
Non smoke gunpowder
Wicks instantaneous
Plastic reinforcing M2-M3
Ballistic and cordite powders
Solid rocket propellants
Nitro-based powders and explosive
Pyroxiline Powder
Octogene
PETN
Semtex
TNT
C4
Dynamite
Tortile
RDX
Nitroglycerine
Ammonium nitrate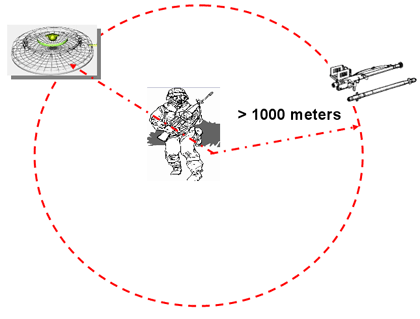 AL – 6D appliance is self-contained energy package and does not require external electrical or other kind of power.
Explosives Detector Alarm Brochure (PDF 2.01MB)